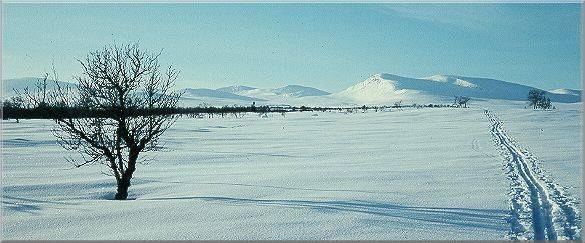 In the Swedish mountains of Grövelsjön

Småbruket Västerbäcken is a family owned former farmstead located in a woodland clearing about 3 km south from the lake Grövelsjön at an altitude of 720 m. The nearest mountains in the east and the Norwegian mountains in the west can be viewed from here. The valley of Grövelsjön is located in the middle of a big nature reserve, a vast unspoilt mountain wilderness. The treeline is at an altitude of about 900 m and the peaks rise to 1100-1400 m.
In wintertime a 100 km machine set skitrail system is connected to our farm. Marked trails in the surrounding woods and mountains can also easily be reached from here.
Our cabins are clean and well maintained, recently built or restored, contents 4-10 beds and have modern kitchen and washroom facilities. Some cabins have an open fire place or a wood burning stove. Indoor smoking is not allowed. You need to bring your own bed linen and towels. Feel free to e-mail us for additional information and our price list.
---
[ Home ] [ About us ] [ Cabins ] [ Downhill skiing ] [ Map ] [ Updated info ] [ Panorama ]
---
Småbruket Västerbäcken
Grövelsjövägen 430 Västerbäcken
SE-790 91 Idre
Phone int +46 25323300
Telephone hours weekday 09 - 20 Saturday & Sunday 09-18
Fax int +46 25323300
E- mail vasterbacken@grovelsjon.nu
Last modified April 28 2011
URL: http://www.grovelsjon.nu
Innehållet på denna sida är skyddat av den svenska upphovsrättslagen
All contents copyright (C) 1999-2009, Småbruket Västerbäcken. All rights reserved.